Notícias>FIPAN2018
Notícias>FIPAN2018
Notícias>FIPAN2018
Notícias>FIPAN2018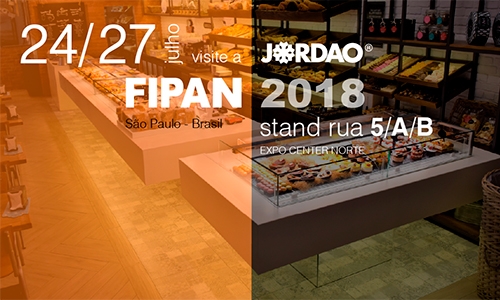 FIPAN 2018
29-6-2018
Come and visit JORDÃO between July 24th and 28th 2018 in the greatest fair of the bread making sector in Brazil, the FIPAN 2018. Discover our solutions for the food retail and service with the demonstration of the models:

- 
CRYSTAL 
movable exhibitor for Chocolates and Pastry
- 
DAISY 
cooled, heated and neutral display line
- 
FUTURO 
mural exhibitors with positive or negative temperature
- 
NEXT 
new line of cooled, or for frozen items, countertops and cabinets, with high energetic efficiency – energy label "Class A"
We await you at the 5/A/B stand, Expo Center Norte, São Paulo, Brazil.

See you there!